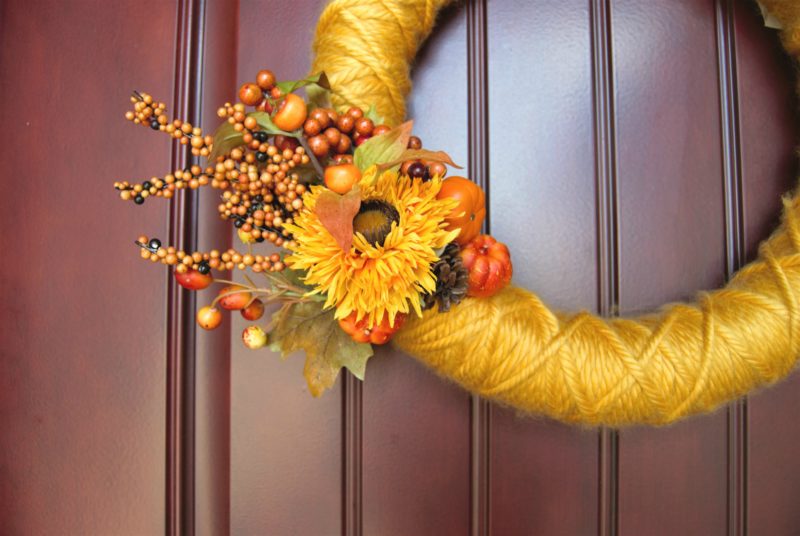 Fall is by far my favorite time of the year, so much so that I consider August to basically be pre-fall (cue pumpkin spice everything).  I love the weather, the clothes, the smells, the drinks involving whiskey and slow cooker recipes.  To me everything in fall just tastes better too.  On top of that I'm also always cold, even in the summer I tend to wear jeans.  Occasionally if my husband decides that our house needs to double as a giant live in fridge, I can be seen wearing a sweater even if it is 90+ degrees outside.  Wearing jeans and a light sweater with a cute pair of brown sandals seems to attract less confused looks in the fall than it does when you are surrounded by tanned people wearing spaghetti straps and cut-off jean shorts.   It probably has something to do with the fact that I was born in November and came in to this world thinking that trees were supposed to look like fire.
One fall trend that I have always loved is that people tend to get their craft on a little bit more.  It's the beginning of hardcore crafting season if you will.  I mean, sure people craft during the summer.  But fall/winter has some peak crafting holidays.  One craft in particular that I pin on Pinterest frequently but never actually accomplish is the wreath.  I see so many clever and creative wreaths greeting people on front porches and entryways that have turned into a mini pumpkin patches complete with full sized hay bales and corn stalks.  I have always wanted to make one of my own in hopes that someone would ask me where I got it and I could respond with the ever humble "Oh that little thing, I just made when I had some free time".  Unfortunately, I have always lived in an apartment.  Don't get me wrong, apartments can definitely have wreaths on the door, I just didn't feel the same sense of entryway pride with ours.  Also, I tried hanging a decorative Halloween sign on our door one year and it was stolen by a passerby only a few days later….But this year we have a house!  Not only do we have a house, this house comes with a semi long entryway and wait for it….a red door!  Sadly, the space between the entry "hall" and the door isn't really wide enough for a full sized hay bale/mini fall wonderland.  I could maybe put a cornstalk in there but alone it seems a bit ridiculous.  So I will just have to settle for my sad lifelong dream of making a wreath.
I decided that I wanted to go clean and simple with this one.  And by decided I mean I had a very small budget.  I decided that I would try out one of these yarn wreaths that I have seen all over the web.  I already had some yellow yarn, so I just needed to get the Styrofoam ring and maybe a sprig of something fall-like.  Luckily, sprigs of something fall-like were on sale for 40% off so instead of paying the whole whopping three dollars for it I had to pay a dollar something.  I could have done more, but I really did like the idea of something simple.  Also, if it turned out terrible then I wouldn't feel so bad about spending money on it.  I got my foam thing and was ready to go, but the yarn aisle was just begging to casually strolled down.  I came across this beautiful mustard colored yellow that was a little bit more bulky than the basic yarn I had at home so naturally I needed it.  I would say in total this yarn cost me about 15 dollars and maybe and hour and a half of my time.  Sadly, in my excitement to get a wreath done, I didn't actually get any pictures during the making process.  But I think it is easy enough to understand.
What you will need:
styrofoam ring
thick or bulky yarn
cheap yarn in the same color/general color as the thick yarn
sprig of something fall-like
scissors?
So to get started, I figured out where I thought I wanted the decorative fall sprig to go on the wreath.  You could tape it down on the wreath where you want it, I chose to stab it into the styrofoam as much as I could.  It probably would have been easier to first make a hole with some scissors but by the time I thought about it I had already started stabbing (I was excited to get my first wreath done!). If you really like making things difficult you could skip this step all together and just hold the thing in place while wrapping yarn around the foam.
Next, start wrapping the cheap yarn around your foam.  This isn't actually a step that you would have to do.  If you just wanted to use the bulky yarn it would probably by fine, I just thought having that extra layer under it would help hide the ugly green foam.  It also helps because with the bulky yarn I wanted to not pull it as tight so it would keep its sweater-like qualities.  If you wrap it too tightly it can start to look like regular yarn and it loses its bulkiness that was appealing.  Anyway, with the cheap yarn I started right up next to the sprig of something fall-like and went all the way around, making sure to tighten and push together the yarn as close as I could.  You want to end up under your greenery so it can help hide the seem from where you started.  If you think you can do it without it being noticeable, you can also maybe wrap around a branch on the underside of the spring to secure it down a little more.
Next, repeat the same thing with the bulky yarn, only this time you don't to do it as tightly.  After I made it all the way around once, I decided that I didn't like how perfect it looked.  I went around again but this time I put a ton of space between each wrap around, then I went around again and kind of criss-crossed over it.  I feel like it kind of gave it a move cozy sweater texture and wasn't so plain.  I love how it turned out, it wasn't so bad for my first attempt at a wreath.  If I were to do it again I would maybe try to find a thicker ring, or maybe get two things of bulky yarn so I could wrap the whole thing twice with it.  But overall I love how it turned out, and it looks pretty nice on our red door.