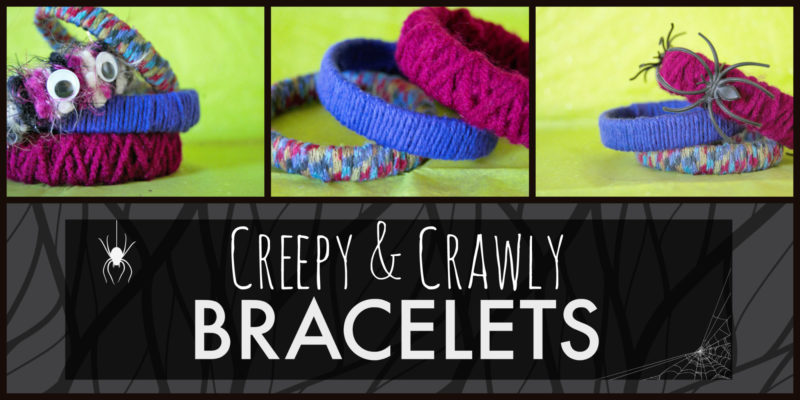 Halloween is just around the corner and while most people have been planning their costume for weeks, I have put very little thought into it.  I get way more excited planning what my toddler is going to be.  I'm usually stuck somewhere between wanting to show my Halloween spirit but wanting to wear clothes that won't leave me freezing, itchy or with some form of face paint on.  I'm also one of those people that once I get dressed in the morning, I'm dressed for the day.  That's where these cute Halloween bracelets come in.
I wanted something that would be easy, cheap, and good looking.  In my opinion that is basically the holy trinity of any craft project.  These bangles can be made to fit any holiday really and with just a few supplies you could make quite a few of these. I made a few plain ones and then added some embellishments to show that I'm representing the holidays even if it is just the bare minimum.  I would say that this is definitely easier for adults and older children.  It can get repetitive and tedious but it is in no way hard.  And the best part of all is that it is super cheap to make these and they can be any size so feel free to not only deck yourself out but throw some of these bangles on your baby, cat and neighbors (with their permission of course!).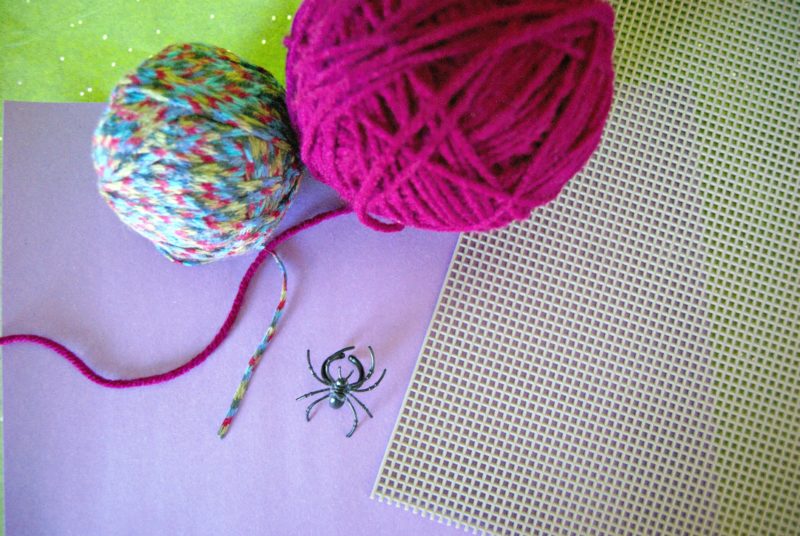 What You Will Need:
plastic canvas
yarn
scissors
plastic spider rings
googly eyes
hot glue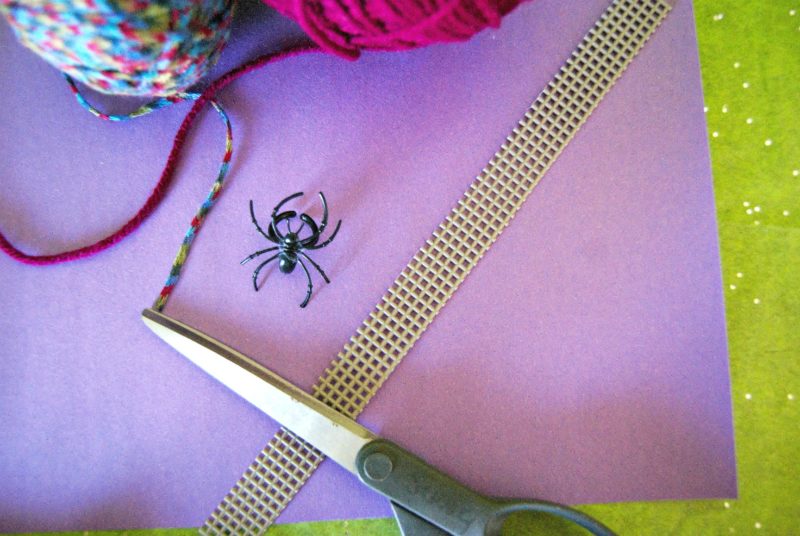 First you will need to cut a strip of plastic canvas in the width that you want for  your bracelet. I cut the strip along the shorter side of the plastic canvas sheet so that I could make more.  It doesn't matter at this point if it is too long because you will want to overlap it anyway.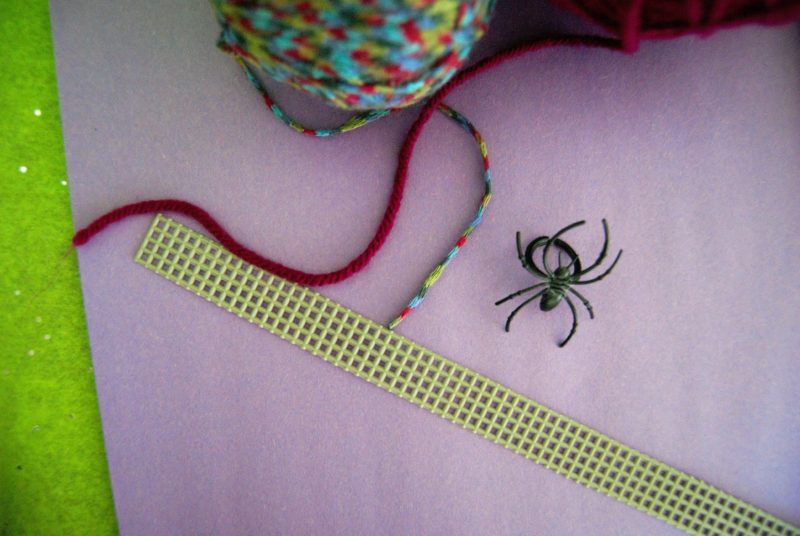 Next make sure you cut off any of the little "nubbins" from the plastic canvas.  You want it to be smooth on both sides of the strip.  This is an easy step, but a surprisingly messy one.  Those things will go everywhere and if they get in your carpet the only chance of getting them out is vacuuming.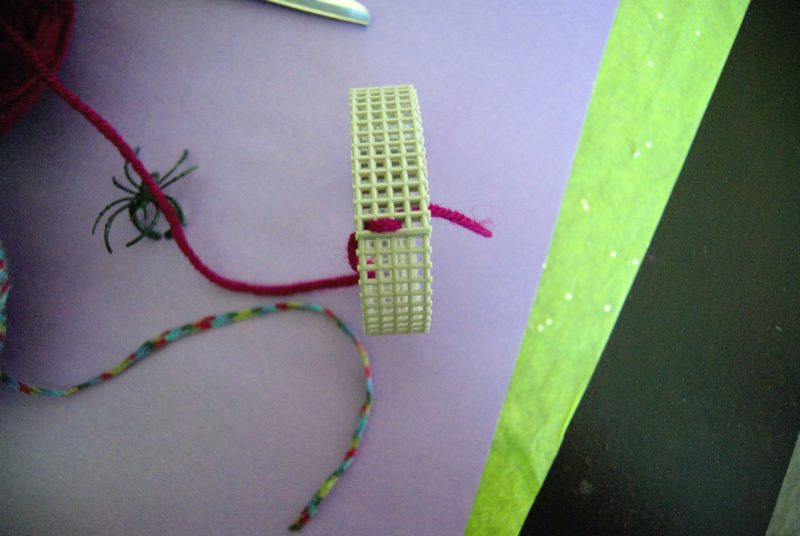 Now you need to determine the size of your bracelet.  It needs to easily go on to your wrist but also not be so big that it falls right off.  This is where the overlapping happens.  Once you get the size you want, you will need to tie the overlapping parts together.  You will only need to do this in one little spot, just to make sure the size stays like you want it.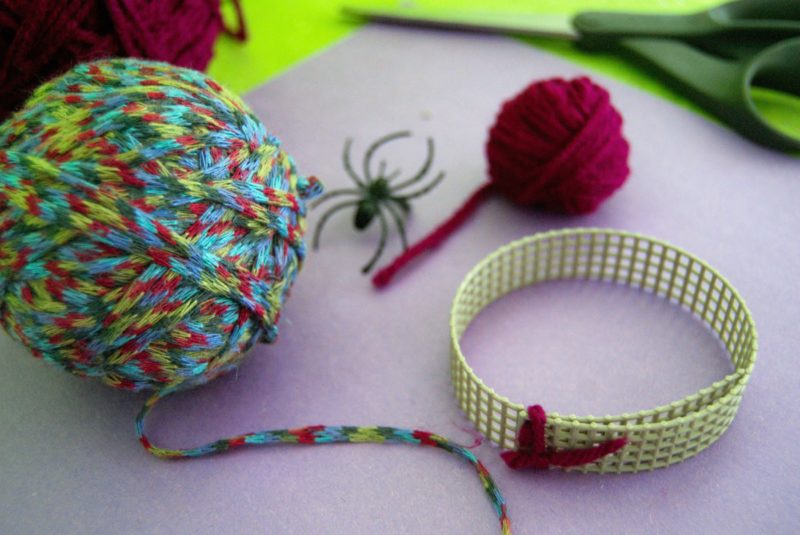 The next step is going to require you to make a small ball of yarn that can easily go through the ring you have made for your bracelet.  I originally tried to just wrap the yarn around the strip before I folded it into a bracelet but that did not go so well in the end.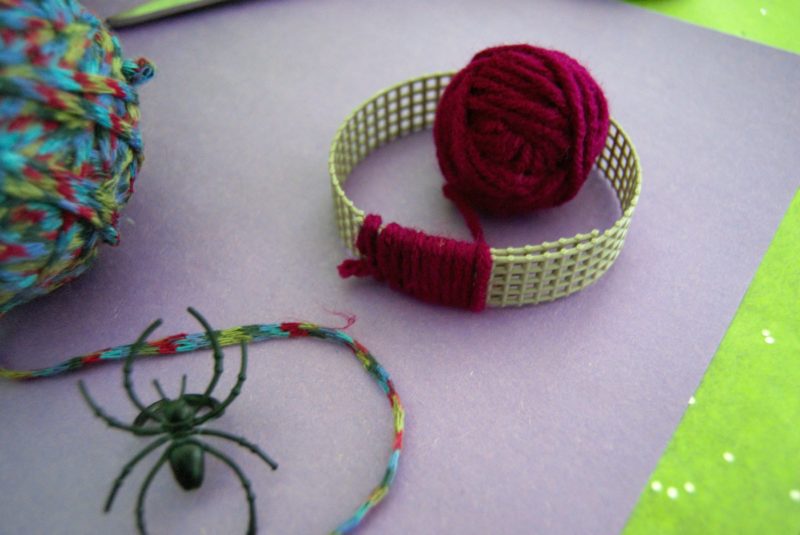 Once you have your mini yarn ball, pick a spot and start wrapping it around the strip. This part is the most annoying and time consuming part.  Weaving through the bracelet hole while trying to keep the yarn close together on the strip takes a little bit of effort.  Once you make it all the way around the bracelet you can either stop or go around again just to give it a little something extra.  I went around three times, but on the third time I wrapped it not as tight and spread it out to give it a little different texture.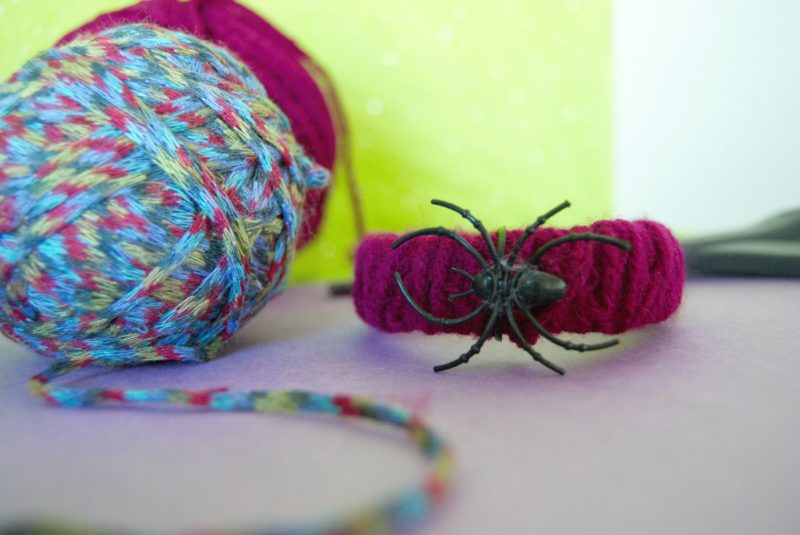 Once you have your bracelet wrapped you will need to cut the yarn and glue the end down, preferably on the inside of the bracelet.  I glued it down and then tucked it a little so that it would be more hidden.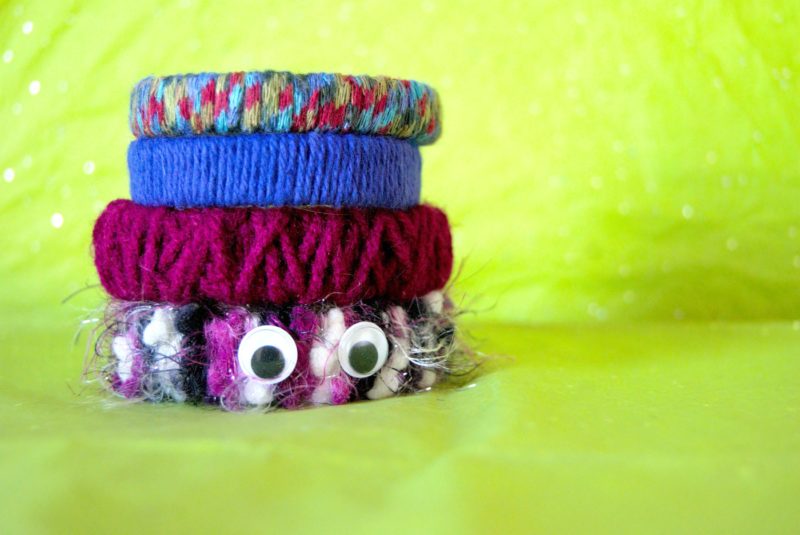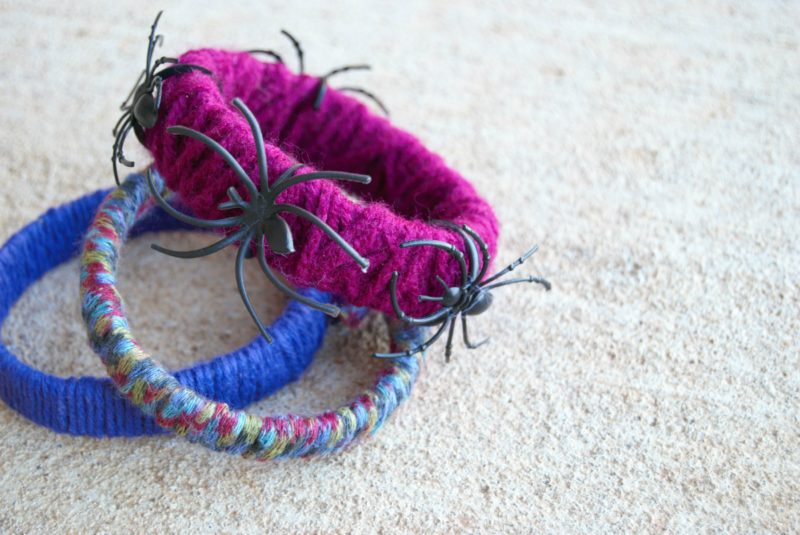 Finally add all of the finishing touches!  I just simply took the spider rings and cut the ring part to there was an opening and wrapped it around the bracelet.  If you bracelet is smaller in width, you can cut the spiders from the ring and glue them to it.  For eyes I just glued them on.  I think in hindsight I would have used a different color of yarn so that the spiders would stick out more.  I didn't want to do the traditional orange and black because I'm honestly not a big a fan of the color.  But a green or even a lighter purple would have looked pretty good too. You could easily add some small plastic snakes or skeleton bones if you could find them.  I even tried wrapping one in "spider webs" but it looked a mess so I didn't post any pictures.  When you are done, slip your creation on and wear it proudly!