I have a bit of a problem when it comes to hoarding craft supplies, especially fabric.  I can justify keeping even the tiniest shred left from a project.  Unfortunately its hard to organize scraps of fabric neatly, trust me I have tried.  I started searching the internet for ways to put scrap fabric to good use and found that making twine out of these discarded scraps is not only easy, it's for sale everywhere!  Etsy is full of shops selling this stuff, and I can see why.  It's so pretty! And since you are recycling fabric that would otherwise go in the trash that makes this a green project.  Everybody wins!  So I set out to try it myself and I have to admit it was way easier than I thought.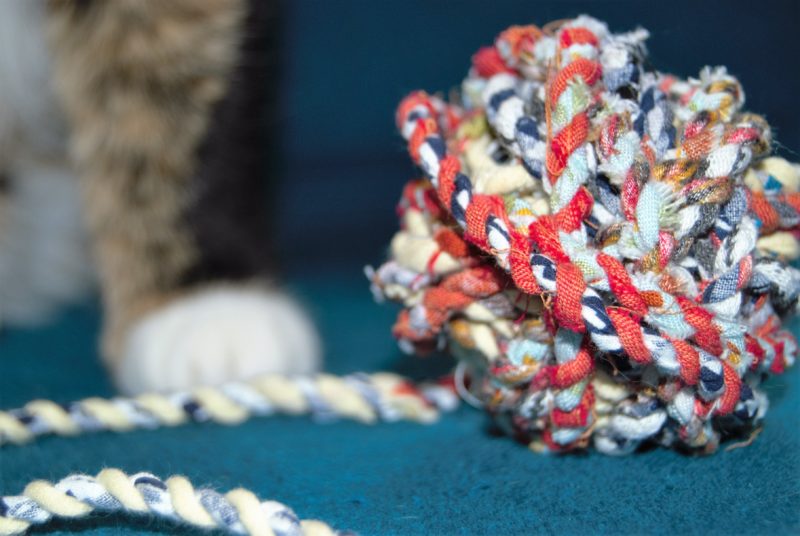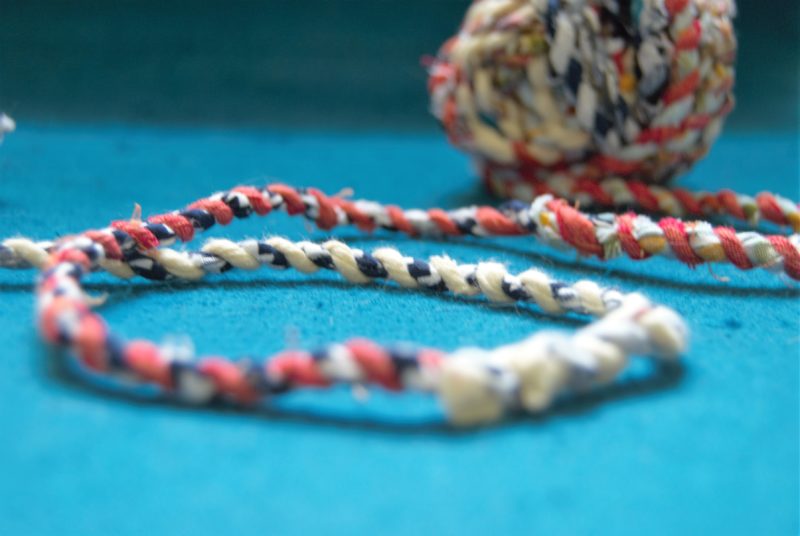 Admittedly this project is very easy and doesn't require a lot of anything other than time.  And trust me it takes a lot of time.  I made a lot of mine while I was parked in front of the t.v. binge watching Netflix stuff.  The other great thing about this project is that it can go anywhere and it doesn't really require any tools.  A lot of the time I was just sitting on the floor playing with my son while making it, he loved playing in the pile of scrap strips that I had made.
What You Need:
Strips of fabric (about 1 inch wide)
pin (optional)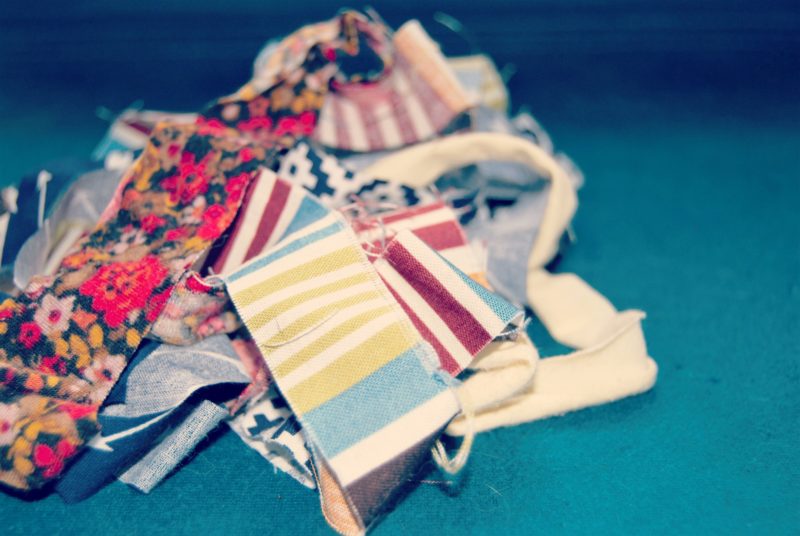 How to Make It:
1. The first thing you want to do is grab two strips of fabric and tie them together.  Any old regular knot will work just fine.  You want to make sure that the strips are different lengths so that they don't run out at the same time.
2. Once you have tied together two strips of fabric, take one and start twisting it towards you. You only need to twist a small amount, but the tighter the twist the better.  Sometimes it helps to twist more than needed just so it stays tight next to the part where both strands will twist together.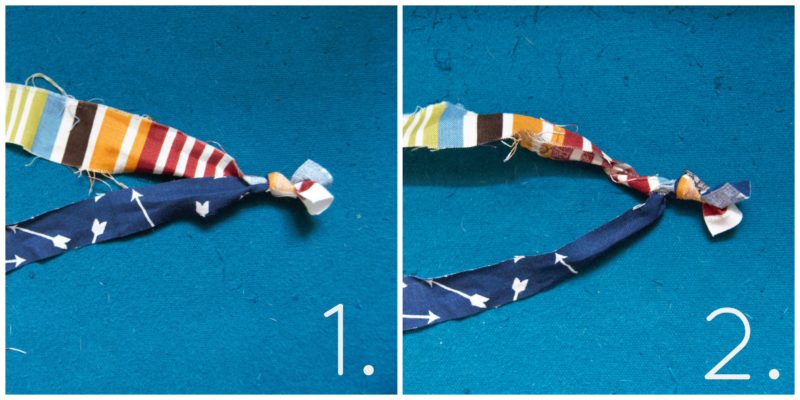 3. Once you have twisted the strand, bring the second strand over the original strand so that it is in front of it. Twist the new strand towards you just like you did with the first one.
4. Once you have twisted the new strand, push it behind the first strand and bring the first strand back in front and start twisting it towards you again.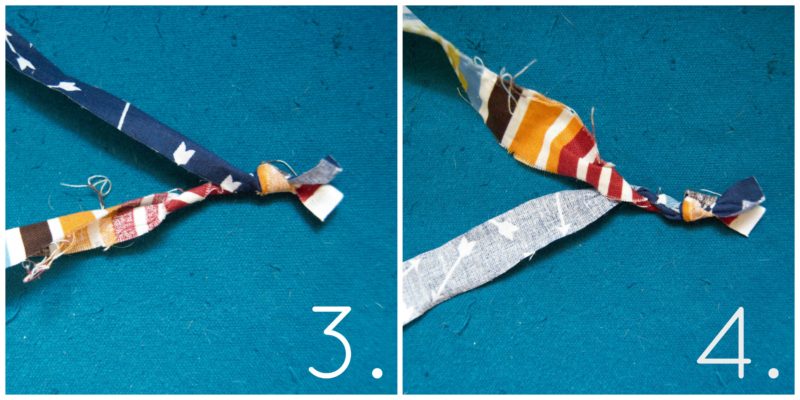 5. Repeat this process over and over until your hands fall off! Unfortunately I couldn't get a good picture of how to join strands but its super easy.  Once you get down to about 2 inches left on a strand, simply get a new strip of fabric and overlap the ends and twist both of them together towards you.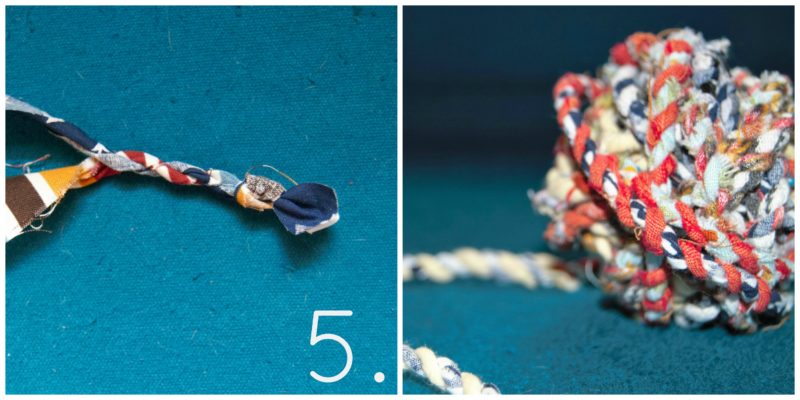 A Few Tips:
I put a pin through the knot when I first started and pinned it to an old chair while I while I was twisting the strands, hence the scraggly looking background in the photos. This helped ease up on the cramps that you will probably get while doing this project and it was actually a lot faster than just holding it in my hands.
I noticed that it was easier to twist and work with jersey type fabric or t-shirt fabric.  I liked to mix two types of fabric that way the twine was consistent with its stretch. So I would do a more stretchy fabric with the standard cotton fabric.
Aside from regular crafting fabric, I also made use of old shirts that couldn't be donated because of rips or holes and they worked out way better than I thought.
When it came to storage, I considered making a cardboard spool and I have seen this twine wrapped around old vintage spools.  I decided that after hand cramps were achieved I just wanted to go the standard ball of yarn style with this pretty twine.  Also I have no spools and I was already spending zero dollars on this project so I decided to keep it that way.
There are no real rules to follow with combining fabric patterns.  It looks cooler if you have two contrasting colored fabrics going together, but I also I also tried mixing patterns and colors that I thought would look awful together and honestly it still looked awesome.
I cut the ends of the strands at a slant so that when joining two strips it would be less bulky in that spot.
Hopefully you will enjoy making this colorful twine as much as I did!  I can't wait to see what kind of projects will come from it!